Spearmint
I love the smell of this oil. I was so happy when doTERRA came out with it. I love to drink it in my water and diffuse it. I had a friend ask me about this oil and looked it up and learned even more about all the amazing things Spearmint is good for and wanted to share with all of you.
Scientifically known as Mentha spicata, is a perennial plant that has been used for centuries for its health-supporting properties and pleasant flavor. Aside from its refreshing and commonly recognized flavor, Spearmint has a wide range of impressive benefits. You've most likely experienced spearmint flavor in candy, toothpaste, chewing gum, or tea. It's sweet, refreshing aroma helps evoke a positive mood. When taken internally, this essential oil has an ability to ease occasional stomach upset and support overall digestive health. Compared to Peppermint, Spearmint is a gentler option to use on children and those with sensitive skin.
Spearmint Oil Product Description
Commonly known for its flavor, spearmint is a perennial plant that offers a sweet and minty taste and aroma. Spearmint essential oil also promotes fresh breath and is used frequently in cooking and baking to create salad dressings, drinks, desserts, and meat marinades. Aromatically, the cleansing and energizing aroma of Spearmint essential oil encourages a sense of focus while simultaneously uplifting mood. Spearmint oil can also promote digestion and help to reduce occasional stomach upset.
How to Use
Aromatically For a boost of confidence, diffuse a few drops in the diffuser of your choice. To help keep away insects, add a drop to the shower for a refreshing aroma.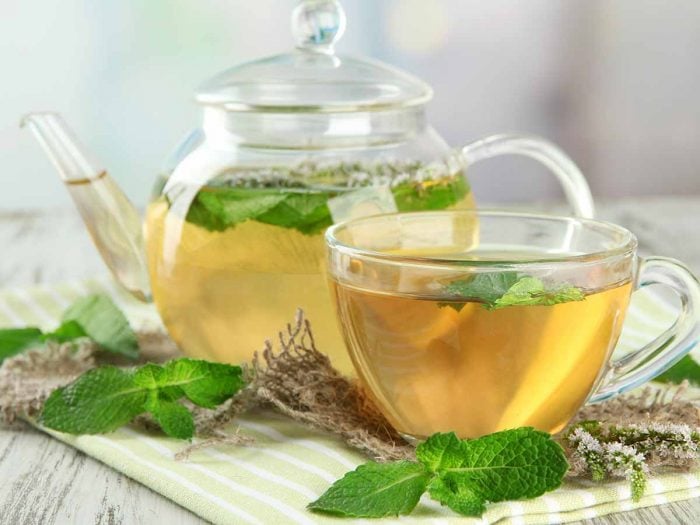 Internally
Add 1–2 drops to baked goods, beverages, and homemade chewing gum. Place 1-2 drops in a veggie cap for the occasional stomach upset. Also great in tea and we make mouth was with it for the whole family. My kids love it!
Topically
Apply to toothbrush before brushing teeth for fresh breath. Massage over the heart, on the soles of the feet, or on the back of the neck during times of stress and tension. Add to lotion or coconut oil and apply to skin for a pleasantly soothing experience.
Other
Add a few drops to bathwater for a relaxing and cooling bath.
Historical Uses
Spearmint has bee used to relieve hiccough colic, nausea, indigestion, flatulence, headaches, sores and scabs.
Spearmint Oil Uses and Benefits
1. One of the strongest benefits of Spearmint oil is that it promotes digestion and helps reduce occasional stomach upset.* When experiencing periodic stomach discomfort or after eating a large meal, dilute one drop of Spearmint oil in 4 fl. oz of liquid and drink. Spearmint oil can also be taken internally by dropping the oil into a Veggie Capsule and ingesting.
2. Feeling the blues? Try using some Spearmint oil to brighten up your day. Spearmint oil consists of chemical components such as carvone and limonene. These organic constituents have energizing and uplifting properties. Use Spearmint oil topically or aromatically to receive the mood uplifting benefits of these components.
3. After reading or studying for long amounts of time, use Spearmint essential oil topically to help promote a sense of focus. Diffusing Spearmint oil will also help promote a sense of focus and will help uplift mood. For the best diffuser results, place three to four drops of Spearmint oil into the diffuser of your choice and enjoy the minty aroma as it elevates your mind and mood.
4. Before leaving your house for the day, apply Spearmint essential oil to your toothbrush before you brush your teeth. Once you've bushed your teeth, you will be ready to take on the day with fresh breath and a hint of mint in your mouth. Spearmint oil is an ideal essential oil to incorporate in oral care routines due to its ability to freshen breath and cleanse the mouth.
5. Please your taste buds and your stomach by adding Spearmint oil to your kitchen creations. For a delicious, minty flavor, add one or two drops of Spearmint oil into any dessert, drink, salad, or entrée. When added to non-baked or non-cooked foods, Spearmint oil will not just serve as a flavoring, it will also aid in digestion.*
INTERESTING FACTS
In the Middle Ages, spearmint was scattered on the floor to get rid of rodents and encourage good health. The name "spear" mint derives from the pointed leaf tips. Distillation Method: Steam Sourcing Origin: India Plant Part: Whole Plant.
Fun Fact
Because teas were not taxed by the English around the time of the American Revolution, mint teas became a popular drink in North America. Spearmint was even used as a prominent cash crop in Connecticut during this time.
Oils that Blend Well with Spearmint Oil Spearmint essential oil blends well with Lavender, Rosemary, Basil, Peppermint, and Eucalyptus essential oils for diffusion. Cautions Possible skin sensitivity. Keep out of reach of children. If you are pregnant, nursing, or under a doctor's care, consult your physician. Avoid contact with eyes, inner ears, and sensitive areas.
These statements have not been evaluated by the Food and Drug administration.These product is not intended to diagnose, treat, cure or prevent any disease.
Referenced from doterra.com